Well, we hope it becomes an inspiration to you as a parent to get your kids "growing" in the area of personal responsibility. We believe that responsible kids aren't endowed with a different genetic structure, they are trained - trained to have Helping Hands! And this starts in the home.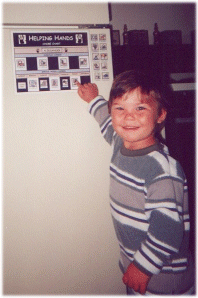 Some folks might take a view that chores are only for mothers and fathers and that a child's job in life is to "play" and any more than that is hampering his/her onetime childhood. But after we began to train "helping hands" in our own children, we have to say that parents who don't attempt to train their children to do chores actually hinder them from a LOT OF CHILDHOOD FUN!
We are now convinced more than ever that toddlers, preschoolers and school age children thrive on the concept of responsibility. Why? Because their sights are fixed on growing up and they can pour as much energy into that vision as they can into play. Much of their play is actually a replica of what they see in the adult world. A little boy carries a gallon of milk from the trunk to the refrigerator to help his Mama after shopping and gets a "Honey, you sure are strong this morning!" and feels like "HE IS THE MAN!". A little girl is asked to help set the table for dinner and the parent swallows hard, halting all respiratory functions until the plate has made a safe landing. She gets a "Gee! Honey, you carried those plates so well. What a helper!" and she feels she is ready to try a hand at your Bone China next time! (Make sure that's locked up, OK?!)
DREADED CHORES
Many parents dread the concept of chores because the word "enforcing" pops in their mind and they begin to envision themselves as cops in uniform! One hundred pounds of parental guilt just landed on their shoulders and the nagging question of "How do I get little Sarah to do this?" becomes a self-inflicted form of psychological torture! In a fit of defeatism and sheer practicality we finally throw our hands up and say: "Skip it! I'll just do it myself and save the hassle!"
Hmm, we've been there, too! But we want to challenge you to start thinking of "chores" as a great opportunity for building relationship with your children! It doesn't have to be a "crack the whip" time. It can become a "together time". You are training skills and they are spending quality time with you, practicing under your tutelage and supervision.
THE BLESSING OF CHORES
We think you will find great benefit in training your children to become responsible through the blessing of chores. We have seen the Helping Hands Chore Chart inspire our children. It was not created to be a motivator, it is a schedule for training, a schedule for practicing responsibility, a schedule for learning order and routine in this one area. It is a schedule for Mom and Dad to help their kids learn to be a part of the family, which includes work times as well as fun times. So though it wasn't created to motivate, we have seen it MOTIVATE anyhow!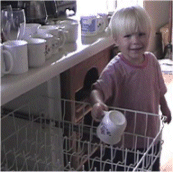 Why? Because the kids take it very seriously and they are very protective of their jobs. Our son wasn't too happy the day we happened to give our dog, Winston, a treat before he had fulfilled his chore of "feeding him". We had to encourage my son not to chide his mother (lest we forget our rank and family authority structure) but we were very pleased to see him take ownership of his task for the week. We were proud of him! He was learning to be a responsible boy-—even at the age of two and a half!
As in everything there are moments of glory and moments of drudgery. Consistent training is the key. You are training them to have helping hands. Don't give up on your children in these areas. They need the opportunity to build physical skills in these areas and build character. Working hard to get a job done and DONE WELL is a part of building integrity and perseverance. Our children will be challenged in life to do a lot of things they simply don't want to do, but they can learn to take pleasure in a job well done and sit back and enjoy the fruit of their labor when it's complete.
THANK YOU AND PLEASE SPREAD THE WORD
As a family we want to thank you for visiting our website and we hope you will try out our Helping Hands Chore Chart. We have tried to make them appealing by offering 10 color combinations to choose from. Our kids loved being able to choose their own colors and even better when we personalized it by putting their name on it. We love them and we hope you will, too.
THANK YOU! We want to thank you for visiting our site. God has built our family through adoption. We now have three special blessings all from the great and vast country of Russia. We have used funds from ResponsibleHands.com and Responsible Hearts to become debt free. It is one way we have off set previous adoption and living costs. As we sought God to grant us another child (actually a new daughter for us and sister for Jenna who has been begging for one), the Lord our God has graciously granted us permission to expand our family and our "tent borders" once again, but this time through a new and surprising way for our family. Our fourth child is due to be born this January 2003 and much to Jenna's delight, there is great reason to believe her prayers and special request for a sister have been answered. Here are our three beautiful children and their special story if you are interested.

If you like this product please spread the word for us and pass on our information to other people you think might be interested. Give them our email address: info@responsiblehands.com or tell them to go to our website: http://www.responsiblehands.com
Visit our family website: "Our Grafted Tree Family"