"But this happened that we might not rely on ourselves but on God, who raises the dead." 2 Corinthians 1:9

OK, Iíll be honest and say, I really thought this adoption was turning out to be rather uneventful. Things just happened in such an orderly way. The paperwork wasnít much of a problem, the referral came quickly and we even traveled with few glitches (except for not having our luggage for 4 out of the 5 days we were in Russia during our first trip!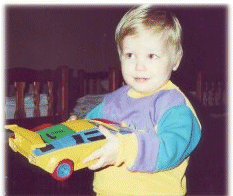 But the Lord is honing a meek a quiet spirit in me so it was great timing for me to learn to practice patience). Our first adoption was just an INCREDIBLE adventure and being first time parents everything was a wonder and we lived on either the pinnacle of excitement and the depths of parental inadequacy and despair. Transition was glorious and scary, but all of that created for us an unforgettable etching in our minds and hearts. Adoption was for us ADVENTURE! So in regards to this new adoption I got to wondering, where is the caffeine high? Whereís the unmistakable imprint! Whereís the "God Experience" in all of this? In my immature mind, this adoption was shaping up to be rather "boring" in comparison to our first experience. Now, Iím not complaining. Peacefulness is always preferred, but it was just plain different from the first experience. But those wiser than I already know that one shouldnít really wish for too much excitement unless you want to walk the path of humility, uncertainty and at times painful pruning of faith. You see, with God there is always a point of dependence. There is always a calling of trusting Him rather than ourselves and our calm waters. So this is where Iíll start our new sonís story. It is really for him that we write this, but weíll allow you a glimpse or peek into his personal story for the purpose of rejoicing with us over Godís intervention despite our humanness.

Airport Anxiety: A Preparation Of What Was Yet To Come

The second trip started out with a test that would be a glimpse of what was to come. We were all packed and set out early for the airport to catch our flight, but there happened to be an extremely strong wind storm in the Chicagoland area and some of our suburbs. What we thought would be an easy and pleasant ride with our children who we wanted to pray with and be with before we took off again turned out to be a ride of anxiety. We were already running almost a 30 to 45 minutes late when we realized traffic simply wasn't budging and IT WAS A SATURDAY! We made a decision to get off at the next stop and even that was backed up a long way. We finally made it off the ramp and started taking side streets to O'Hare (this is not an easy task, by the way), but God opened the way for us. We turned on the radio and found out that 294 was not moving at all because power lines had fallen into the expressway and the police weren't letting anyone by on this 3-4 lane highway. We had taken the absolutely last stop and realized had we gone any further there would have been no possible way for us to back out of that traffic - apart from being illegal to do on an expressway anyhow. We would have missed our flight for sure. I started to get nervous, but still and just decided to pray and as we manuevered our way to the next safe on ramp. Our daughter Jenna was sitting next to me and knew I was worried. She simply turned to me and said: "Mama, you shouldn't worry. It's not good to worry. You need to trust God and pray about it." So we prayed together! :o) She was a great encouragement to me because despite the situation, I was elated to see her childlike faith rebuking me and urging me to keep my heart by trusting God. Those are great moments you look for as a parent.

Well, we made it on time, but we basically had to kiss and fly! It was a bit of "prep" on what was to come and I remembered it frequently while in St. Petersburg. We would have to trust the Lord in a greater way than this.

Our Little Boy of Special Days

Iím not trying to read anything into anything, but as an adoptive parent you have to hold on to those precious tidbits that reassure you that your prayers have and are being answered. So let me start by saying that Nikolas has been our little boy of special days. I had asked God just for some little encouragement, not that they were necessary, but just some little something. Well, I think God in His mercy provided a few of those blessed encouragements in more ways than one.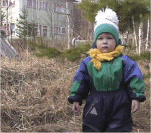 Nikolas was born on February 14th, the same day as his new Mama. We received our court date and flew out of Illinois on April 7th, his Papaís birthday (he got a new son this year!) and then we arrived back in Chicago for him to meet his new brother and sister on Easter day. So you might say, "Hey, those just happen to be some interesting coincidences, and Easter changes every year, it was purely "luck of the draw". Well, Easter is important to us in more ways than one and especially this year. It is the remembrance of the resurrection of our Lord Jesus and God allowed a bit of resurrection to Nikolasí adoption story. You see, we almost came home empty handed. Events occurred during our second trip and during the court hearing that put a halt to our adoption. We had no reason to believe there would be any problems, but we were shocked and devastated when during the court hearing, standing in front of the Russian judge she declared that we couldnít proceed with the adoption. This is where we step out of normalcy and begin to entreat our Heavenly Adoptive Papa for intervention.
The Glitch
The glitch was legitimate. The judge found out that there was a grandmother who was not notified of the childís pending adoption, much less his existence. By law, she had every right to claim him and take him home on the spot regardless of our presence.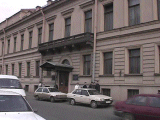 The judge pronounced judgement that until the grandmother signed a document releasing the child for adoption, we could not take him. Grandma lived two hours or more from St. Petersburg and someone had to find out where she lived and try to explain that she actually had a small grandchild in an orphanage waiting for adoption. We stood there shocked with hearts pounding hard and everything inside saying: "What do we do now?" We had used up our financial resources in regards to this adoption. Our two children were waiting at home with their grandparents from out of town for our quick return and for their new brother they had been praying about. The judge asked us how long our visas lasted and we nearly choked out the month of "May" knowing that we couldnít stay in Russia an extra two or three weeks, much less come home and return at a later date due to finances and our children who had already endured two weeks of our absence. Iím sure she saw us trembling. The director of the orphanage was horrified, the Inspector and Translator were downcast. The judge looked at us and asked us if we had any words to say on behalf of this new circumstance and situation. My husband told the judge to act with integrity despite the circumstances it put us in. He expressed his desire for this new little boy and that we were saddened by the delay not only for our reasons but for his own health conditions (his orphanage had a breakout of Hepatitis A and he has congenital heart disease). Basically he told her he wanted her to act with integrity toward Nikolas' situation and that he believed she would rule wisely either way. She never smiled, but after we left the room with some tears, the translator came out and grabbed my husbandís arm to tell him that his response was EXCELLENT and that it was probably the best answer anyone could have given the judge under the circumstances.
We left heavy hearted and nervous, but the judge ruled that if the paperwork could be signed and presented by Thursday by 2:00 pm she would resume the court hearing and make a final judgement on the childís behalf whether yes or no.
By the grace of God, there was a godly family there with us who had just successfully adopted their child before our court hearing. They prayed with us and encouraged us in many ways and together we saw God work out our situation.
The next day our facilitator, the orphanage director and the inspector got up at 5:00 in the morning and raced to the city where grandma lived, found her and talked with her about the situation. She at first considered the possibility, but she herself had a heart condition and lived in a home no bigger than our living room with bathroom facilities outside of the house. She understood his medical condition and the situation and decided to write the release form immediately. We will always be thankful for grandma who despite the shock and surprise of this whole situation was willing to allow Nikolas to become our son. If God permits, we hope one day she can meet him as a young man and be encouraged by her decision.
On Thursday, as scheduled, the judge set up another court hearing for Erik and I. She really was merciful as she could have scheduled the hearing a week, two weeks or more from the time of the first hearing, but God moved her heart to have mercy on our situation. We were worried and a bit apprehensive, but the hearing lasted no more than 15 minutes. She asked once again for any comments from us on the situation and what we thought on the matter. Well, what does one say? How do you put all your hopes and expectations into a few words and not make it all come out cockeyed? Erik nudged me and so I stood up and feebly told her that we were simply grateful for the opportunity to adopt another child and grateful for the orphanage director who had obviously taken such good care of the children in his Detsky Dom. I thanked them and told them that we believed Nikolas was a great match for our family and we would give him the medical, education, spiritual and emotional care he needed. I sat down feeling awkward, especially since I saw a rather odd look on the judgeís face and had no clue if I had possibly overstepped some cultural or courtroom boundary.
Adoption Granted
The long and short of the whole story is that in the name of the Russian Federation, the judge declared us to be Nikolasí new parents. I really love that line "in the name of the Russian Federation..." it just makes you feel like the whole Russian nation is entrusting you with this incredible gift and responsibility. It really is an awesome moment because you feel a special shift in the heart, "WOW! This is it. We are parents of three children now! I'm a mother of THREE!"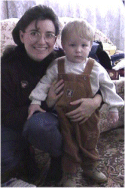 But thatís not the end of the story. You see, just after this statement, she stood up and looked at us and told us something we've since been told she has never said to anyone: "Come Back Again". WHAT??!! Did we hear her correctly? She actually asked us to come back to Russia again for another adoption! We couldnít in our wildest dreams imagine a Russian judge would say something like that. Besides, you always wonder what they really think of people adopting their children anyhow. We made sure to approach her and shake her hand and once we left the court room our translator said with awe and a big smile that she had NEVER said anything of that nature to anyone, as a matter of fact all of the facilitators both in St. Petersburg and Moscow did a double take when we told them what she had said. They couldn't believe it either. (Let me state here, that we have taken this special tidbit as a specific encouragement to us from our Lord. Only He could know our inner thoughts and desires and need for reassurance that this might not be our last adoption. It's certainly not a prophetic thing in the least, but it certainly was a blessing to our hearts and we'll be praying about it and seeking His face regarding our "tent borders" being extended in the future (IS.54)).
We made sure during the court hearing to especially thank the judge for the opportunity to adopt this new child and thanked the orphanage director in front of the judge for having taken very good care of the children in her orphanage. Our translator expressed that the judge was a bit shocked by this kind of statement toward herself and the orphanage director, especially during the court proceeding. (We know that all other adoptive parents also say thank you, but I think she might have expected a complaint from us because of the mix up with paperwork and not a thank you and/or encouragement instead). The orphanage director was more than elated and felt we had honored her before the judge, especially since she probably felt very responsible for our difficult situation during the previous hearing by not having all possible documents available. The birthmother specifically requested that her mother not be told of the childís existence due to her weakened heart condition so the director was between a rock and a hard place.
What we thought was our sure demise turned out to be for Godís intervention and made for a rather "eventful" adoption after all. We almost didnít have an adoption story to tell you. There would have been no story of a new son. We needed to consider the fact that our adoption was dead and we might come home empty handed and empty hearted, but God who is able to resurrect the dead for His purposes and glory granted us to taste a bit of adoption resurrection power. What encouraged Erik and I the most was that we had originally asked for two children (a boy and a girl). Our hearts were set on two, but the Lord in His wisdom and through the good counsel of our agency decided to grant us just the one child, our little boy. We are content, but we also wondered during this trip if we would end up ever having a foursome, maybe it was just plain unreasonable to think of it. That judge will never know the impact and power of those three blessed words, "come back again". It was a flicker of hope for us that maybe God would allow us sometime in the future at His perfect time and under His direction to call us back to Russia for the little girl we hope would complete our foursome. Jenna is adamant about a little sister and we have a hook already mounted on the bathroom wall for her washcloth. We just keep hearing those words from the judge going back and forth in our heads and hearts:
Come back againÖ God willing, judge, we will! :o)