Nikolas Edward Widholm - Our New Son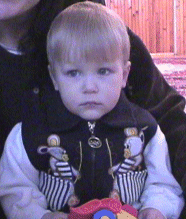 We met our new son Nikolas, for the first time, on Monday, March 5th. It is always an incredible feeling to stand in a waiting room with all the anticipation of knowing that within a few moments you will meet your next child!
Toddler adoption is even more exciting because you get a sneak preview into a bit of their personality. When Nikolas walked in with the caretaker, we were excitedly nervous and he was very shy - for obvious reasons! We weren't quite sure how much he had been told about us, but the "inspector" introduced us to him as his new Papa and Mama.



---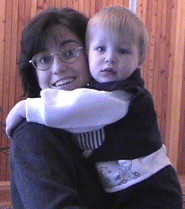 WOW! You kind of wonder what these little guys think about you as you try coaxing them to play, hold them, carry them or even give them a peck on the cheek. Well, we don't know and probably won't ever know because all our children just didn't have the verbal skills to tell us what they were feeling, but BOY DID HE EVER KNOW HOW TO CLING. He reminded me so much of my Jenna who latched on to us and glued her little body to us every time we went to visit her. We are talking serious cheek to cheek action!

Even though we got this nice picture, our Nikolas was very leery of his new Mama in particular. We think it might be because Erik, the Papa, was an incredible novelty! Not only does he make nifty car and animal sounds, but he is a MAN! These little ones don't see men very often and never in the "I would like to get to know you" capacity. We think my DARK hair was also a shock to him. Most of the ladies seemed to have lighter hair.



---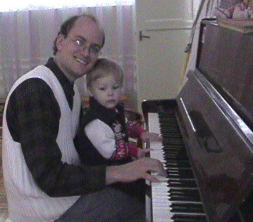 Beethoven in the making? Well, maybe! This piano was a great way for us to have Nikolas on our laps and have him interested in plunking piano keys as a distraction. He really liked this. He wasn't interested in the toy truck we had for him, but once Erik pulled out some Russian Rubles and our hotel key, Nikolas' level of interaction soared. He had a blast stacking the coins and this was a great way for us to see where he is at developmentally. We'd say he is pretty on target for a boy his age.



---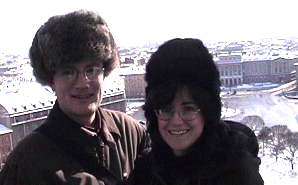 OK, we broke down and did it! But once you get a taste of that bitter cold winter weather in Russia, you just gotta humble your politically sophisticated views and just thank the Good Lord for RABBIT! I bought one from a street vendor who practically marauded me, but GLAD HE DID! That morning it was especially nippy outside and I needed it! These hats are called "shopka" (at least that's how our driver pronounced it). They are made of rabbit fur but please don't send us hate mail because of it! :o)

BTW, complain as I did about the weather that day, we actually saw some Russian folks who are in some kind of "Polar Bear" club. They were hanging out in their SKIVIES (we kid you NOT) taking in the morning rays by St. Issac's Cathedral! Our driver, Andre, born and raised in St. Pete's had one assessment:"CRAZY RUSSIANS!" I'd normally be inclined to keep silent on such cultural matters, but on this subject he was RIGHT ON!



---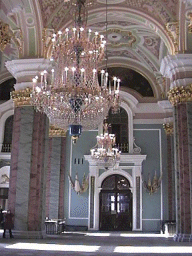 We had some time to visit some museums, cathedrals and eat yummy Russian food while in St. Petersburg. This picture was taken at "Hermitage" an incredible museum with art work by Rembrandt and other famous artists along with historical artifacts from Russian culture when the Czars still ruled that great nation.

Everything is ornate and overlayed with gold and marble and other stones we simply don't know the name of. It was an incredible museum.



---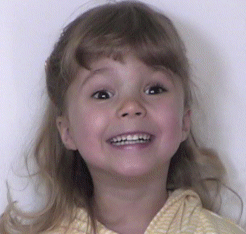 Nikolas met the rest of his family via photo. This is one we had taken of our beautiful brown eyed Russian Princess, Jenna, on her birthday. He seemed to like her a lot. He called her "Keka". Yup! At least there is another blonde in the house! :o)



---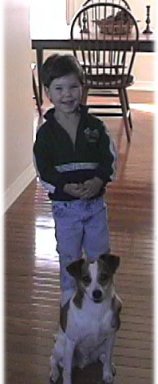 Here is the photo we left with Nikolas of Aleks. He called Aleks "Ak or Ah" something like that. He pointed to the two children a lot. I think he'll like having other children around. Aleks and Jenna are excited about Nikolas, though, to be honest, they simply won't get the transition part until some coveted toy emerges on the scene with their new younger brother.

Nikolas seemed very interested in Winston. Oh, that would be a blessing! It took Jenna over a year to get used to the dog and if she ever buys a dog when she is an adult, I'll have the laugh of my life! :o) Anyhow, Nikolas called Winston "babaka" which is sabaka or dog in the Russian language.



---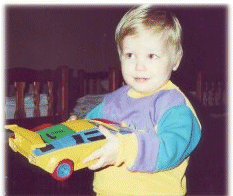 Nikolas was born on February 14th!
(same day as his new Mama)
He will be two years old this year!
Cars? Aleks and he will get along just fine!




---

Ya gotta love a face like that!
Hope we can bring you home soon! We're really praying about it!



---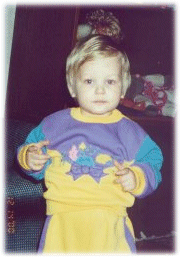 Your new sister, Jenna, and brother, Aleksander
Are really praying for you to come home!
They ask to see your video everyday!
We put your picture on the table and when we leave
they say: "Bye, Nikolas!"