August 1998, we pined away. Russia went on holiday break, as so many Europeans do, A WHOLE MONTH! (Ya gotta love a system like that, eh?) We also got news over the Internet that Russia was revamping its adoption laws and things were looking a little grim, i.e. moratorium.
September 1998,we were dismayed. We hadn't even received a video, yet. "What is going on! We were supposed to have had the children by now!"

Then, "the call" came to pick up our photos. We raced furiously to the agency! We opened the pictures and there they were. Two thoughts rang in our minds: "WOW! These are our children!" and "Uh Oh! These are OUR children?" (LORD, Have Mercy!)
Then, one Saturday morning, a most special envoy from the local Fed Ex came knocking and there, in his hand, was our video from Russia. We watched with excitement and yes, we confess - a little fear! The first child, WOW, it's the little girl. "Isn't she cute!" Wait, what did they say? "...17 months old?" No, that can't be right! Our little girl is 2 and a half! What's that? "...born in April?" No, that can't be right! Our little girl was born in February. "What in the world is going on???" We look at the tape again. Right name, but wrong child?
This is when the fear part starts really kicking in, folks! We continue watching and then another little girl is brought in from behind a door. We were intent on watching only OUR CHILDREN! But due to human frailty, we decide to see the forbidden (BTW, I don't think we were ever supposed to get a video filled with children, only the two chosen for us. You know, agency policy and all.)
The next segment rolls and to our awe and amazement there is the most gorgeous little girl with a bow on her head.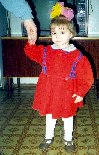 (Erik secretly falls head over heels for this child, but refuses to let his wife in on the feelings. Gina, feeling very guilty about the fact that she too is quite taken with the child, can't resist and empties all her pent-up emotion on her husband, who then himself, succumbs to the moment, and divulges ALL, Ha!....Men!) (O.K....and Women, too!) FEAR grips us as we both realize we have fallen for another child who was not in the photo. YIQUES! Now what! We continue watching.
What? "She was born in February." Hey, that's interesting. "She's two and a half." Hey, that sounds awfully coincidental! Hmm, I wonder. Could it be?
The long and the short of it is that Zhenya (the 2 ½ year old) was the child originally chosen for us, but by accident we were given the photo of another child with all of Zhenya's bio information on it.
But WAIT! The video keeps rolling and there he is! Our little boy, Aleksander! Our first thoughts? HE'S HUGE! What's all this stuff about being a preemie. Forget that! (Gina, signed up for Women's Workout World that very week!)